Siteground Latest Review 2019
September 30, 2019
SiteGround or Sg is a very reliable and trusted web hosting service provider that is available in the market today. It was founded in early 2004 by a group of university students who were fascinated by the idea of entrepreneurship back and then, and the world was taken into the storm by the internet.
So, the young entrepreneur decided to kick start their business in web hosting services. The company grew by leaps and bound as it caught the attention of Joomla, a web site content management service (CMS). It helps in the management of content i.e., connects the site to MySQL Databases for a smoother exchange of data as Joomla offered its customer free hosting services of SiteGround.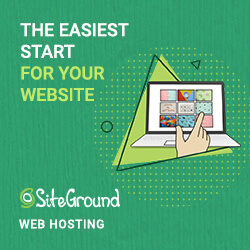 SiteGround is known to offer its customers various hosting plans, and most of the plan comes with three plans i.e., Startup, Grow Big, and GoGeek. These plans were designed keeping in mind the needs and wants of the business organization, depending on the size of the company, budget, and potential of the company. 
Various Services of SiteGround:  
Web Hosting:
Generally, web hosting comes with three plans i.e., StartUp, GrowBig, and  GoGeek. It is to be noted every kind of hosting plan comes with three plans.  The startup is the most basic plan of the web hosting services, and one can expect features like 10 Gb storage, faster SSD servers, automated daily backs, and is suited for small websites. If you want to have more storage spaces and free site transfer and even faster, you choose for GrowBig or GoGeek plans. The StartUp plan starts at a minimum of 3.95 $/mo, and the GrowBig plans will cost you 5.95 $/mo, and the top tier plan will cost 11.95$ /mo
WordPress Hosting:
If you are looking for hosting services, then SiteGround has one of the best WordPress services in the market today as they offer many services like Faster WordPress Launch, Free WordPress Transfer, Dev Tools, and timely managed updates. It also offers customers three WordPress plans i.e., StartUp, GrowBig, and GoGeek. 
Cloud Hosting:

Cloud Technology is an important technology in today's fast and growing technology, and SiteGround has quietly developed its technology to best cloud hosting services in the market. From smaller businesses to large business websites, everyone knows the importance of this technology and can benefit from it. SiteGround offers four cloud hosting plans and comes with many features like Free Private DNS, Daily Backups, Free SSL, Free CDN, SSH  & SFTP, and free dedicated IP.
Entry 

Business 

Business Plus

Super Power 
eCommerce Hosting:
SiteGround's e-commerce Webhosting is powerful as it offers customers with important features like AI antibot system, Daily backups, Managed Updates, Pre -Installed SSL, and Safe Staging Tool. It also comes in three plans Startup, GrowBig, and GoGeek. It is even recommended by Woo, WordPress, and Yoast.