Interserver Web Hosting Plans
August 21, 2020
Interserver has been in the industry for over a decade, their satisfactory features, constant development, and excellent service has paid off. Interserver is now a well-recognized web hosting company.
The company has been specialized in various hosting solutions, which include Shared web hosting, VPS hosting, and dedicated hosting plans. Also, they provide their customers will both Linux and Windows servers, giving customers more options to choose from as per their preferences.
Confused whether or not you should go ahead with the services offered by Interserver? Continue reading this article to know why choosing Interserver would be an ideal decision.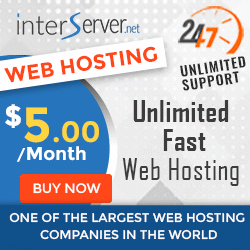 Shared Hosting Plans
Like every other company, shared hosting plans are the cheapest ones to choose from. They are extremely budget-friendly, and this makes the best option for the small-scale business owners to go ahead with.
The shared hosting plans are further categorized into 3, namely- Standard hosting which is most likely to meet your needs if you have just started or if the website receives low traffic, Windows/ASP.NET hosting is similar to the Standard Hosting, the only difference between the two is that Windows hosting server runs Microsoft products and WordPress hosting is the top solution for hosting the WordPress site.
Cloud Hosting/ VPS Hosting
For small scale businesses that are gearing up for quick and easy scale, cloud hosting is a good choice. Here, the data of your website will be stored across a number of different web servers (in a cloud) instead of a single shared or dedicated server.
Some of the compelling features provided by the cloud hosting plan involve free website migration, custom power selection, server monitoring, and many more. The hosting plans offered by cloud VPS are divided under Windows and Linux category.
Each of these plans is further categorized based on the storage plan provided by each one of them. Also, by the RAM, Operating system, and many more features. The hosting plans provided by this hosting starts from $6.00 and continues to increase depending upon the nature of the plans that you choose.  Virtual Private Server is a cheaper version of dedicated servers; with VPS hosting, you will have a set amount of resources dedicated to the needs. The VPS hosting plans are further categorized into 3 offering various features.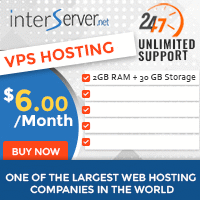 Dedicated Hosting
For large scale business websites receiving huge traffic to the website, dedicated hosting is the best option. By hosting your business website here, you will ensure that your website is in a secured space.  Also, for a website with multiple pages, dedicated hosting is the best one to prefer.
Some of the primary features provided by this hosting include DDOS Protection, data migration, zero set up, managed support, 10 GB transfer support, and 4 hours of provisioning. Multiple plans are offered by the dedicated hosting starting from a range of $ 80.00/ per month, providing top-notch performance quality, flexibility, high power, and many more.
Besides the above-listed variety of plans, we have curated a list stating certain reasons which make Interserver stand out against its competitors. Have a look;
Latest and Fast Content Delivery Network
Cloudflare Content Delivery Network, commonly known as Cloudflare CDN, is one of the essential features which is required to be part of all of those websites receiving traffic form users all across the globe. CDN will help you level up your website as it uses caching, which ensures that the load speed of the website never goes down.
Additionally, it will also optimize the delivery as well as provide security to your website from various fraudulent activities and also provides you with multiple financial benefits too. This feature is beneficial for all the business sizes as they will not have to worry about extra costs with Interserver hosting packages. This policy of the company would help businesses to maintain price stability immunity from inflation and much more.
Price Lock Guarantee
Price Lock Guarantee is another strong reason for choosing Interserver services. This policy of the company conveys that there will be no increment made for the renewal of the services. Therefore, you will not have to pay any additional costs when renewing your hosting package.
To conclude, Interserver is undeniably a reliable web hosting company to work with. Hopefully, this article has helped you to make the right decision for your website.