Ideas for a Low-Cost Modular Kitchen
November 27, 2019
The biggest expense that every homeowner has to bear is by designing the modular kitchen. The current market of modular kitchens carpenters and designers search for innovative kitchen cabinets ideas that would enable maximum utilization of space and materials at a minimal cost. The wood is the choice for everyone which is expensive and now designers are offering other alternatives like medium density, fibreboard, particleboard, and other artificial options to homeowners. Below are the ideas for a low-cost modular kitchen.
Modern Design and Thought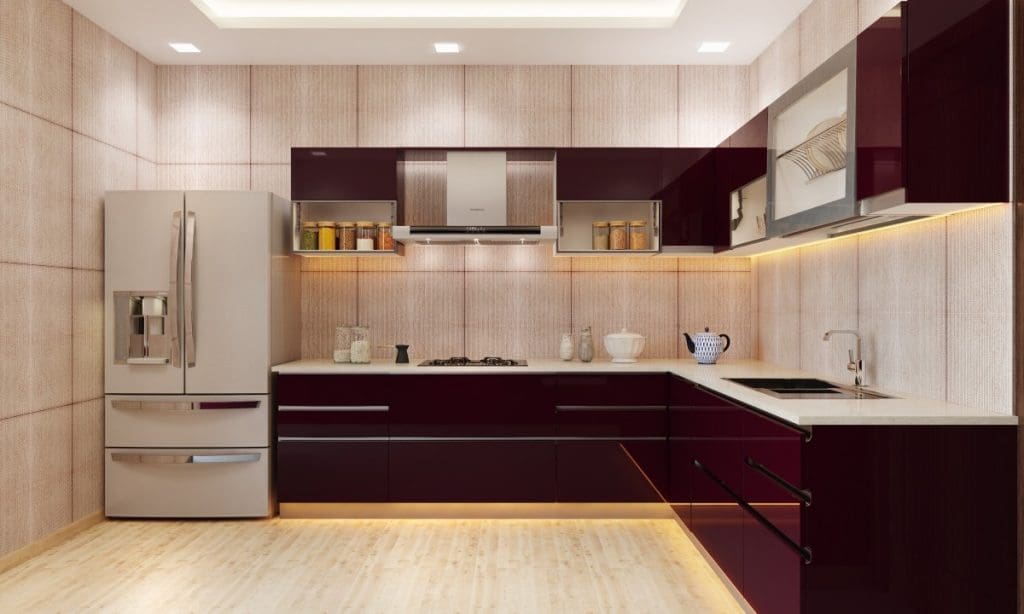 The common L shaped design gives this kitchen and tranquillity. To the outsider, this kitchen may seem expensive due to an elegant finish and combination of wood and synthetic materials. However, on a closer look, one can see that this modular kitchen is made out of low-density wood and have strong steel handles which reduce costs and look classy. The open floor plan keeps the area in sync with the dining and living area.
Combination of Wood and Synthetic material
Seamless design and lighting add space to this artistically designed modern kitchen with a single long counter inlaid with blue granite. Wide rectangular wooden cabinets maintain synchronization with lacquered cabinets that are equally attractive. Large white lacquered cabinets on the wall above the counter create more space for storage and can give the kitchen superior finish and appearance. The surface can be easy to clean and maintain these are more budget-friendly than maple or pine wood cabinets.
Enchanting Symmetry of White
The rectangular flow of the design of this kitchen is carried forward to the cabinet design too. The expensive finish of these cabinets usually has visitors wondering that the owner must have spent thousands on setting up this modular kitchen. The attractive cabinet set has been made at one third the cost of expensive wood and giving it expensive lacquer or polyester finish. This design is best for low-cost modular kitchen.
Elegant Wood and Glass combination
This stained wood will add elegance and beauty to the blue titled floor and bring harmony to the kitchen. Designers looking for style and class have always opted for stained wood doors due to their timeless appeal and choice of colors.
The above-mentioned designs can be best for the kitchen under the budget who are planning on decorating it. Hope that I have covered all the topics in my article about ideas for a low-cost modular kitchen. Thanks for reading!