Some of the Best Pre-Wedding Photoshoot Ideas
March 10, 2020
Getting a wedding planned is not just an easy task but there are several parts of it that we really enjoy. And talking about one such part is the Pre-wedding photoshoot and become an important part of wedding that is needed to be planned before several things while planning for wedding. It all depends completely on the couple that you want to keep the these memories in the form of photo only for you or want everyone in your lists of social media to know about it.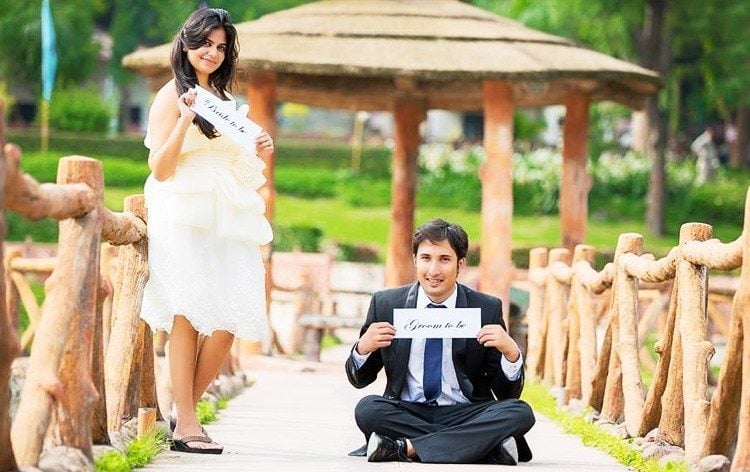 But everyone wants to get something different when getting these pre-wedding shots clicked then what the different ideas for pre wedding photoshoot that you can opt for get the photoshoot more interesting and fun. So, we are compiling an list of all these ideas that you can think of as adding a pinch of difference in your pre-wedding photoshoot.
1. Include food in your photos
Just drop the idea of getting those scenic settings in your memorable pics for the small streets or cafes in which you get on your first date. For you if falling in love together is also meaning that falling in love for food together then share your love for all the yum things with the help of this ideas for pre wedding photoshoot.
2. Get your furry friends invited for the shoot
Having a pet always meant as another family member for you then get your pet involved in the photoshoot with you. And if you are thinking that you  don't have a pet yourself then you can plan a visit to the nearby local center and will help you promote a cause through your wedding photoshoot.
3. Make your wedding shoot a Nostalgia trip
Whether fighting over any game like winning the queen in the game of carrom or while playing jenga these cute and little moment from the time of your childhood can be a part of your photoshoot. And why not try including the little things that you loved as a kid creating a nostalgia to your photoshoot memories.
4. Add a filmy taste to it
If you are a Bollywood lover and like some drama then why not add some memorable moment from any of the Bollywood movie that you like. And if not Bollywood then why nt add any loved character from Hollywood as there is no limit on availability of the costumes and add some pose related too the character and your work is done.
5. Involve the comfort of you home in your shoot
We always listen and get to know that the couple drove down to a location for a photoshoot but all this looks a little fake. So make it a little realistic by shooting at a location where it all started that is your home.
Hope you get some good options form the list of ideas for pre wedding photoshoot for planning your shoot in the future. In case you feel that you have any doubt or any suggestion for us then reach to us by filling the Contact Us form.
Thanks for reading!